Welcome to my web site Tetsugyu Sho Art site.

 My dream is to become the artist of the first class that the world admits.
Therefore,I design the calligraphy of a new sense,and have tried my best to praise in the world.
 The vivid drawing line born from my finger and a brush will be a base for calligraphy of a new sense,and the original technique with which ink and wax were mixed produces the three-dimensional feeling in a work.


I was surprised at the technique for matching the Indian ink to wax.
I have not met calligraphy with the livery motion like this jumped out of a work.
Writer's spirit came across.


Lee President Christian Billet(Le Salon)
Editorial Patrice de Perriere(Univers des arts)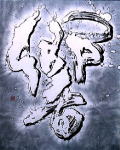 The new art which made the most of the charm of traditional SHODOU(calligraphy)
It is the new art which carried out the maximum practical use of the charm of traditional calligraphy. Although calligraphy is art transmitted from generation to generation, even how to use a brush can come out and it can become contemporary art. His avant-garde calligraphy is so. He mixes sumi with wax and is expressing the abstract and private idea with the rich talent on paper.
The following images are the works that well-known French painters praised.
---
---
Publishing article:The Chunichi Shimbun (Japan's Leading Newspaper)

"Yugen(The profound and quiet elegance)"
 Art by Tetsugyu Hayakawa2007
 Monaco art festival
 Francis Poulenc prize winning
Famous French art magazine Univers des arts Japanese version
 What is the calligraphy art of the new sense?
 It's the picture which made the most of charm of Japanese traditional calligraphy and it has originality.
A traditional charm of calligraphy is a vivid line that arises from my finger.In addition,the picture with the originality is to show a drawn line with a sumi and wax three-dimensionally.

The main headline of Newspaper
The technique of the Indian ink and wax surprised judges.
Avant-garde calligrapher's Mr. Hayakawa won the high rank a prize in a Monaco art festival.
---
"HIbiku(Sound)"
 Art by Tetsugyu  Hayakawa2004
   Le Salon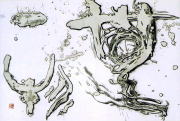 "Muitibutu(Nothing)"
 Art by Tetsugyu Hayakawa 2005 
  Montreal art festival
   calligraphy art prize
The avant-garde calligrapher: TETSUGYU HAYAKAWA
Member of French artist society
Calligraphy of a new sense
Art that used a sumi and wax
Please E-mail me and write E-mail in easy English. or Japanese.
Please let me hear the opinion and the impression.